Fan Contributions!
Last Updated: December 8, 2001.
---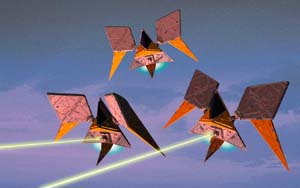 Okay, so we don't have any really yet. Actually that's not true, we have some... it's just I don't where the members of the RPG stuck them. Heh... Anyway, if you want to have something put up here whether it's a drawing, fan fic or whatever related to the RPG let me know so I can add it to the page. We all love getting contributions and such so don't be shy! You can e-mail me the file at terrin_fox@hotmail.com or you can give me the URL where I can find it on the web so I can link to it. (With your permission of course) Either way is good and the sooner the better! Anyways continue on... continue on. More to see.
- Terrin Akai Fox
---
--- Fan Fiction! ---
None Yet
---
--- Fan Artwork! ---
None Yet
---
SFRPG and its rules and playing system are copyright Terrin Fox, aka David Thurlow. Star Fox, Fox McCloud, Andross and related characters are copyright Nintendo, all rights reserved, and are used without permission.
---