Welcome to Terrin Fox's Star Fox RPG Page
Last updated: December 8, 2001.
Venomians have been defeated since June 1999.
---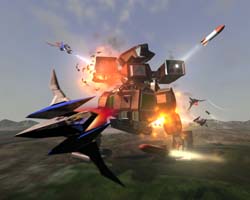 Welcome to the new web page everyone! New format this time around and with frames! Please feel free to navigate through the frame above or if you're lazy and aren't using frames you can get around using all the buttons further down the page.
Much has happened in the couple of years it's been since this site has seen an update. The first Venomian Elite Strike Team or VEST, has also come into being and various members have come and gone. At the moment both teams are in the process of collecting new members. LEST1, LEST2 are going almost full swing after a bit of a dry spell, and VEST1 is moving along great in spite of recent setbacks. Also you will note that the individual LEST teams, with the exception of LEST1, have their own web pages hosted elsewhere. Individual GMs are now responsible for making the team's website along with keeping character profiles, mission reports and logs up to date, which takes some of the pressure off of me. As well we are looking for new Gamemasters to take control of LEST3 which unfortunately was disbanded a while back and to possibly start another team. E-mail me if you like for more info on this and other things you might want to know about.
Anyway, have a good look around the new page. I'm sure you'll find out everything you need to know about the SFRPG, and you can contact me at terrin_fox@hotmail.com if you have any questions.
- Terrin Akai Fox
---

Go to the section with all the information, rules and things you will need to know to join.
Stuff submitted by fans or players of the RPG such as fan fics, artwork, etc.

Check out the times and days each LEST will be playing, including times in common time zones.

Links to some StarFox related websites and other places one might find interesting.

Go to the page with the application form. BE SURE TO READ THE RULES FIRST!

Check out the LEST Rosters and Histories with links to their individual websites and other info.

Extra stuff that is related to the RPG and various downloads.

Current information on the Lylat System, front lines and points of interest.
---
SFRPG and its rules and playing system are copyright Terrin Fox, aka David Thurlow. Star Fox, Fox McCloud, Andross and related characters are copyright Nintendo, all rights reserved, and are used without permission.
---