The Lylat and Venomian Elite Strike Teams!
Last Updated: December 8, 2001.
---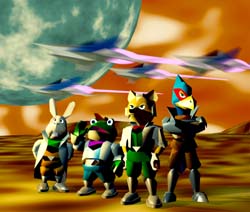 Welcome to the main place to be in this website. At least one of a couple. Here you'll find the LEST and VEST websites and main information listing, including a lot of little goodies! Currently there are 2 LEST teams and one VEST team, however there are very few spots left over thanks to a lack of Gamemasters. You are welcome to sign up on the good guys side by clicking on the Join Now! button above, but please first have a careful look at our rules. Because of limited space and the kind of playing environment we wish to achieve you must have a well thought out character that is sensible and doesn't God-mode. A good idea to get some ideas and balance is to have a look around in these sections here for character profiles. Most sites will give you a good idea of what is expected in a character. Most LESTs and the VEST by now have a badge for their team as well, which are here if they were provided. Thanks and enjoy!
- Terrin Akai Fox
---
--- LEST1: Shadow Crusaders ---

Current GM: Terrin Fox (David Thurlow)

Current Commander: Jack Tarson

Current Executive Officer: None


Member List: Jack Tarson (Captured), David Miller (MIA), Alistair Duncan (MIA), Jared McConner (Captured), Kayn Slamdyke (Captured), Zenobia Steadfast (Active), Terrin Fox (NPC, Recovering)


Current Mission Status: Mission 4 - Silo Siege - INCOMPLETE and IN PROGRESS (May be Scrapped)

Previous Missions: Training Mission (Beta Test), Fortuna Under Siege, Life or Death Rescue, Triarch Base Retrival
---
--- LEST 2: The Black Avengers ---

Current GM: Jason Wolfman

Current Commander: Mariko

Current Executive Officer: Flyer Fox


Member List: Mariko (Active), Tyrone Paw (Active), Flyer Fox (Active), Vrika O'Donnell (Active), Claudia Jensen (Active), Shrianna (Inactive?)


Current Mission Status: ???

Previous Missions: Katina Blockade, Crusaro Base, Jonmara Station, Darkmouth Plains, Deerlick Station, Operation Playing Judas, Meet the Hunters
---
--- VEST 1: The Night Wings ---

Current GM: Reba Sting / Fox McCloud (aka Vrika O'Donnell LEST2)

Current Commander: Darien Tavis

Current Executive Officer: None


Members List: Darien Tavis (Active), Mercédes deLéon (Active), Minamoto (Inactive), Stripes Bobcat (Active)


Current Mission Status: ???

Previous Missions: Operation TGF, Movement Ainih, The Moles
---
SFRPG and its rules and playing system are copyright Terrin Fox, aka David Thurlow. Star Fox, Fox McCloud, Andross and related characters are copyright Nintendo, all rights reserved, and are used without permission.
---